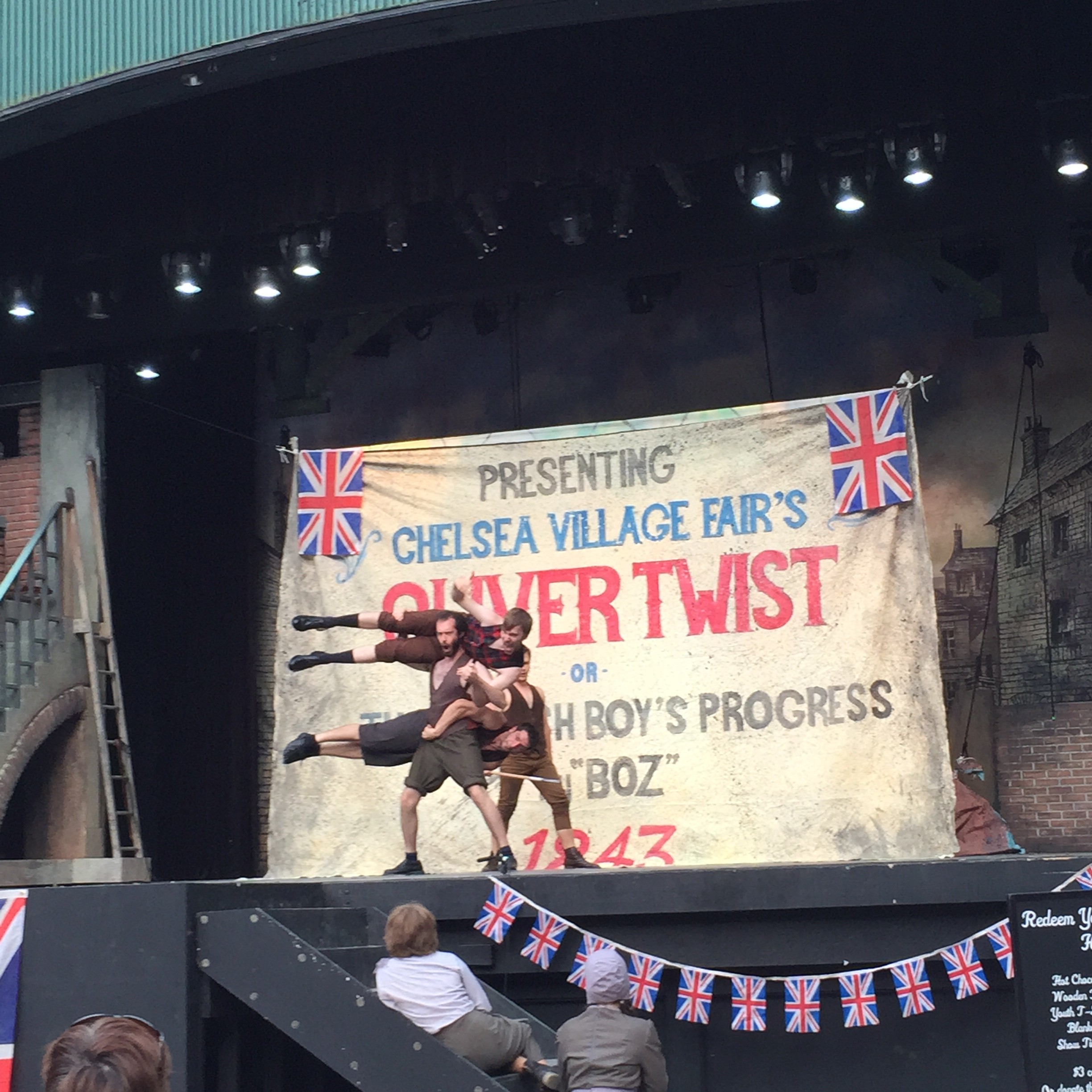 Ever since my youngest was born almost 2 1/2 years ago, I made a habit of taking my older daughter on 'dates' as often as our hectic schedule allowed. We do simple things like go out for coffee, or play in the park, and we do elaborate things like spending a day at Playland or get manicures. Our latest date was far and away our favourite of any we've done so far. We went and saw Oliver! presented by Theatre Under the Stars Vancouver.
Having never been to Theatre Under the Stars before, I was expecting a decent show, but was completely blown away by our entire experience. It started the minute we walked onto the grounds, with the performers wandering through the crowd handing out 'crowns' to all the kids to use when playing the Victorian Fair style games spread around the area.
Some performers were hosting the games, some were engaging and encouraging participation, all were in character 100% of the time. Activities included ring toss, 20 yard dash, a puppet show and a strongman game. We walked around and took it all in before grabbing snacks and finding our seats.
Adri has been in musical theatre classes for a year now so I was excited for her to see what a professional performance looks like, although I was nervous about whether some of the subject matter would scare her, and if she would be able to sit through a 2.5 hour show. It turned out my worries were completely for nothing. From the opening number until the last note rang out, we were enthralled. Based on Charles Dickens' novel, Oliver Twist, TUTS's brought a fresh take to this timeless theatre classic. We sang along with some of the greatest musical theatre songs including Food Glorious Food, Consider Yourself, I'd Do Anything, and As Long As He Needs Me.
Adri is still talking about our date, and telling everyone she meets all about it. We 'consider ourselves' fortunate to have had the opportunity to see such a great show, and one reader can consider themselves lucky when they win 4 tickets to a TUTS 2015 performance of their choosing (a $180 value) by entering below!
Be sure to visit www.tuts.ca for schedule information and to get your tickets today!
All on the table disclaimer: While I did receive free or discounted products/services, all opinions are completely honest and totally my own and you know I would never share anything less than superbly stellar with all my fave readers.