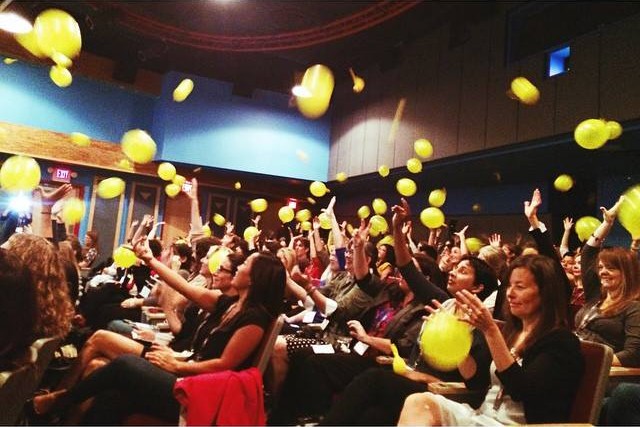 Motherhood is tough. Careers are tough. LIFE is tough. There is so much in our daily grind that brings us down; feeling guilty about not spending enough time with your kids, or not focussing enough on work, feeling bad about not making the best choices for your physical or financial health, feeling cut off from people because you work at home alone, or because you work in an office and don't know your neighbours or the other school parents – it all can become overwhelming!
I've experienced this at various points in my life enough to know that the best antidote for this is to connect. To reach out to others in similar situations, share my story and listen to theirs. To be heard, inspired, uplifted, refreshed and ready to take on the world. As a work at home solopreneur, there aren't a lot of natural opportunities to connect built into my day so I make it a point to actively seek them out. I'm so excited that one of the best opportunities to do this is coming up soon!
On September 25, 2015, VancouverMom.ca, Entrepreneur Mom Now and JellyBeen will be hosting the fourth annual Leading Moms, and my attendance has been 4 years in the making! One year I was on bed rest with a debilitating pregnancy, the next with a dislocated knee. Last year I had my ticket booked when my father passed away suddenly. This year I am thrilled that I will finally be able to join nearly 200 other moms at this incredible event!
Leading Moms boasts an all-star speaker line-up, including CTV's award-winning broadcaster, anchor and breast cancer survivor Mi-Jung Lee. Add a poet, a songstress, a filmmaker, a trans mom, an investor and a physician and you can't help but be moved and encouraged by the range of experiences. You'll hear about personal journeys in motherhood through a mix of performance, video and intimate talks delivered straight from the heart. Complimentary childcare is available for a limited time only. Yes you read that right. COMPLIMENTARY! If that's not enough to motivate you to grab the Early Bird discount while it's still available, I don't know what is!
Be sure to connect before the event by joining the conversation at the Leading Moms Twitter party on Tuesday, September 15th at 8 pm. There are prizes to be won! Follow @leadingmoms on Twitter and use hashtag #LMinspire to virtually meet other attendees and speakers.

Summer has been a long haul this year. I am long overdue for a recharge and am so excited for that opportunity at Leading Moms. Will I see you there?